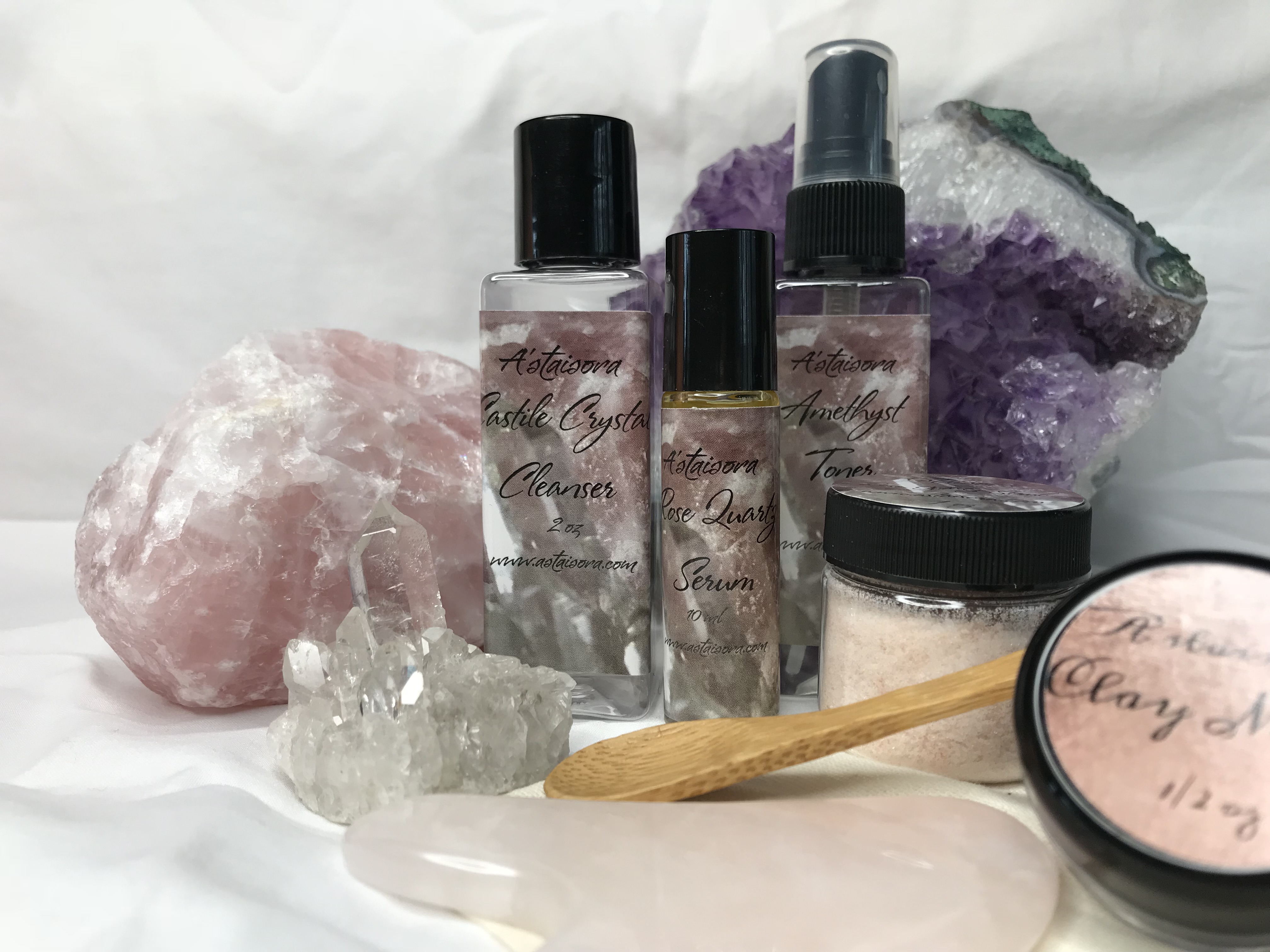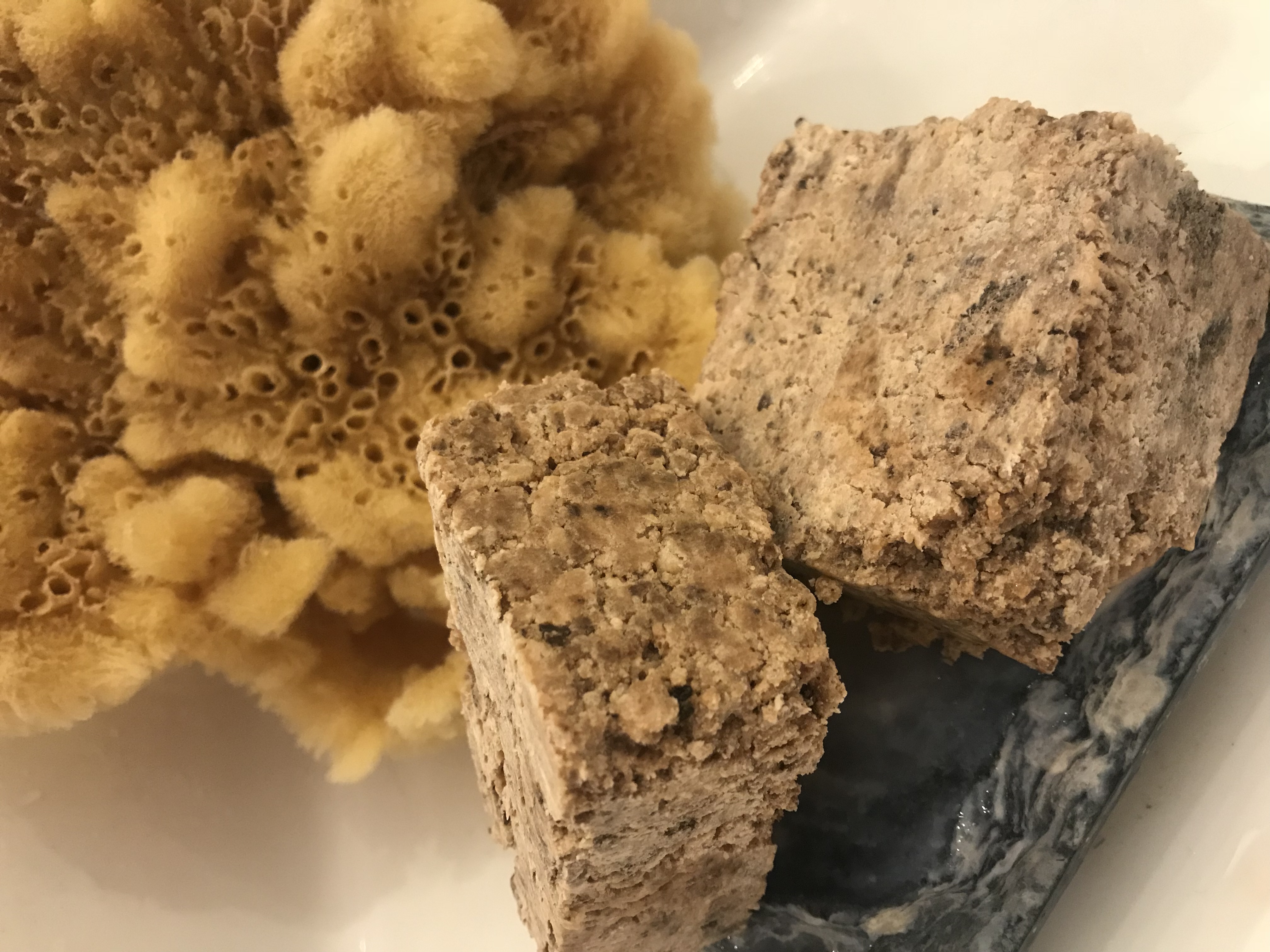 The Natural Way to treat your skin. Why put anything harsh on your biggest organ when you can nurture it with exclusive, gentle, soothing, products like ours inspired by natures finest ingredients. The secret ingredients that big box companies say they add to their products is our base! Two main base ingredients we use are Jojoba Oil, and Shea Butter. Then we add essential oils to boost the products anti-aging abilities. We infuse all our products with Crystals. Our Rose Quartz Facial tool helps with lifting, revitalizing and draining lymphatic fluid.
Crystals are made of minerals and have a higher frequency, they can move towards weaker skin cells, to balance them, which make them extremely effective and powerful ingredients to target common skin issues such as redness and signs of aging. Rose Quartz works to improve circulation and can calm every complexion. Amethyst can act as a calming mechanism to ease nerves and inflammation. Clear Quartz has the power to cleanse and enhance deep-soul cleanser that stimulates the immune system and brings the body into balance.
Facial Kit Ingredients Include-
Castile Cleanser-Castile Soap infused with Quartz, Essential Oils
Toner-witch Hazel, Rose H20, Cider Vinegar, Essential Oils infused with Amethyst
Serum-Jojoba Oil infused with Rose Quartz, Essential Oils with a Rose Quartz Roller ball
Clay Mask-French Green Clay, Kaolin Clay, Lavender, Chamomile, Rose Petal powder with Rose Quartz
Eye Creme-Pure Shea Butter
Scrub-Himalayan Sea Salt, Sugar, Rose Quartz Stone
*First Kit should include the Rose Quartz Facial Tool.
Jojoba oil has been used by Native Americans for centuries to treat skin wounds, but it didn't become widely known to most of the rest of us until the 1970s. Since then, its popularity has grown due to the amazing benefits it provides.
• As an anti-bacterial
• As an anti-inflammatory
• As a moisturizer
• As an acne treatment
Shea Butter has natural anti-inflammatory properties.
Want wrinkle prevention? In the areas of Africa where Shea Butter is widely used, the elders have amazing skin. Shea Butter contains essential fatty acids, along with Vitamins A and E, which are essential to maintaining skin elasticity and softness.
If you are prone to hyper pigmentation or dark marks, regular use of Shea Butter can help even your skin tone. The anti-inflammatory properties of Shea Butter can help to reduce the redness of acne. Also, Shea Butter is excellent for fading dark marks and acne scars. It naturally contains vitamins A and E.
Castile soap is your best choice for helping to clean and calm your skin. This is because it's made from olive oil, which also has a proven benefit for softening and calming problematic skin. Castile soap naturally possesses antibacterial properties. Castile soap is a non-toxic alternative for people who suffer from sensitive skin, suffer from eczema, from psoriasis or acne. The soap contains natural antibacterial properties that will help kill the bacteria that causes acne.
Essential Oils are natures medicine and contain anti-aging properties as well as healing properties. They are the natural aromatic compounds found in seeds, bark, stems, roots, flowers, and other parts of the plant. The essential oils in our products are as follows.
Lavender-Sooths skin irritations, calming & relaxing
Chamomile- Has a calming effect on skin, mind & body
Frankincense- Adds moisture and helps reduce the appearance of skin imperfections and rejuvenates skin
Ylang-Ylang- Provides antioxidant support,Promotes appearance of healthy skin & hair
Orange-Powerful Cleanser & Purifier
What is CBD oil?
Cannabidiol (CBD) oil is a product that's derived from cannabis. It's a type of cannabinoid, which are the chemicals naturally found in marijuana plants. Even though it comes from marijuana plants, CBD doesn't create a "high" effect or any form of intoxication — that's caused by another cannabinoid, known as THC.
What can CBD help?
CBD may be able to help you manage anxiety. It may change the way your brain's receptors respond to serotonin a chemical linked to mental health. Receptors are tiny proteins attached to your cells that receive chemical messages and help your cells respond to different stimuli.
CBD may help relieve anxiety by reducing stress, decreasing physiological effects of anxiety, such as an increased heart rate, improving symptoms of (PTSD), inducing sleep in cases of insomnia.
The effects of CBD oil on your brain's receptors may also help you manage pain. Studies have shown that cannabis can offer some benefits when taken after chemotherapy treatments. Some things is may help as far as pain are arthritis, Joint pain, Chronic Pain, MS pain, and Muscle pain.
The effects of CBD on receptors in the immune system may help reduce overall inflammation in the body. In turn, CBD oil may offer benefits for acne management, psoriasis, eczema, and Rosacea.
(NCI) says that CBD may help alleviate cancer symptoms and cancer treatment side effects. However, the National Cancer Institute (NCI) doesn't fully endorse any form of cannabis as a cancer treatment. The action of CBD that's promising for cancer treatment is its ability to moderate inflammation and change how cell reproduce. CBD has the effect of reducing the ability of some types of tumor cells to reproduce.
CBD has been in the news as a possible treatment for epilepsy. The American Epilepsy Society states that cannabidiol research offers hope for seizure disorders, and that research is currently being conducted to better understand safe use.
CBD could help people with neurodegenerative disorders, which are diseases that cause the brain and nerves to deteriorate over time. This receptor is known as CB1.
It could help people with Alzheimer's, MS, Parkinson's, or Stoke. It may help with autism and ADHD.
CBD oil may also reduce the inflammation and this can that can make neurodegenerative symptoms subside.
It can also help Pets. My dog recently got cancer and we had a huge tumor removed. She is now on holistic herbals and Pet CBD. This will help her with cancer pain, inflammation, loss of appetite and it has been known to slow tumor growth.
Is it Legal?
CBD is legal in all 50 states Federally. The stipulations are it has to have less than .3% THC in it. There are 2 forms. Isolate which is only CBD and Full Spectrum which has up to .3% THC and other cannabinoids. You will not get high on any of these. The THC is the only component that makes you high.
How can I use CBD oil?
You could use capsules, dummies, tinctures (Oil used under your tongue) in full spectrum or isolate, vape, topical, Pet CBD and Pre-roll flower buds.
If you want to be educated on CBD or have any questions please contact me.
Black African Soap
African black soap is 100% natural and may be used for the hands, face, body or lathered as an effective shampoo. It is known as a natural source of Vitamin A and E, as well as iron. African black soap allows for an all-natural cleansing process and does not contain any synthetic fragrances, color additives or animal ingredients.
African black soap originated in West Africa (especially Ghana). The tribes of West Africa make this soap with plant parts that are locally harvested.
The traditional recipe of African black soap is a closely guarded secret that is only known to the families that prepare it. The recipes may differ from region to region. However, they have a few common ingredients. The local tribes of West Africa usually use ingredients like palm oil, coconut oil, raw African shea butter or shea tree bark, cocoa pods, plantain skin, and honey for making this extraordinarily rich soap.
Usually, the plant parts are collected and then sun-dried. They are then roasted until they turn into ash. Then, different types of plant fats, such as coconut oil, shea butter, cocoa butter, and other fats are added to it, and this mixture is stirred on heat for at least 24 hours until it solidifies. Once it is solid, the soap is cured for at least two weeks before using it.
What Makes African Black Soap Special?
Core ingredients along with their benefits:
Plantain Peels – Cooking bananas (or Musa paradisiaca) are a goos source of antioxidants, protein, folic acid, thiamine, riboflavin, potassium, and vitamin C.
Cocoa Pods – Rich in antioxidants cocoa pods – or the shells that house the treasured cocoa bean – also have strong anti-inflammatory properties.
Coconut Oil – A well-rounded ingredient indeed, coconut Oil cleans and moisturizes the skin, and helps kick start collagen production.
Palm Kernel Oil­ – Obtained from the seed of Elaeis guineensis, palm kernel oil is rife with several types of fatty acids.
Palm Oil – Derived from the fruit of the palm tree, Unrefined Paml Oil (known as red palm oil) is abundant in vitamin E, alpha and beta carotene and other antioxidants, as well as essential fatty acids.
Shea Butter – Also plentiful in beneficial fatty acids, Shea Butter is a prized ingredient for silky smooth skin. It helps repair damaged skin tissues and Boost the body ability to produce collagen.
1. Natural Skin Cleanser
Like any soap should, African black soap is an effective topical cleanser. The lauric acid in palm kernel oil and coconut oil creates a nice lather and is naturally antimicrobial. Due to the presence of shea butter and other moisturizers in African black soap, it will clean your face and body without stripping oils from the skin.
2. Good for All Skin Types
Whether you have dry skin, oily skin, or a combination of the two, African black soap works wonders for every skin type. Thanks to the addition of coconut oil, this soap counteracts dryness by deeply hydrating the skin. It's excellent for oily skin too since it adds moisture to the skin, which helps to correct and balance an overactive sebaceous gland.
3. Gentle Exfoliation
African black soap is organic, unprocessed, and raw – which means that you shouldn't be surprised if your bar comes with fine particles of vegetative matter inside. Aside from knowing you bought the authentic stuff, the grainy quality of this soap makes it a fantastic gentle exfoliator.
4. Fight Acne
In addition to the cleansing powers of lauric acid, African black soap also contains other nutrients and fatty acids that make it a robust acne fighter. Coconut oil is excellent at fighting acne since it is comprised of caprylic acid, capric acid, and vitamin E, which work in tandem to balance the skin's pH levels and calm inflamed and irritated skin.
Likewise, palm oil can help prevent and heal acne breakouts since it is rich in beta carotene, oleic acid and linoleic acid. These fats also have anti-inflammatory properties that create an occlusive barrier that keeps moisture in, while vitamin A is an essential nutrient for all-round healthy looking and feeling skin.
5. Reduce Fine Lines & Wrinkles
Utilizing two ingredients that are frequently discarded as waste products, cocoa pods and plantain peels are both a rich source of antioxidants. Cocoa pods are composed of gallic acid, tannins, and catechins while plantain peels contain rutin, protocatechuic acid, and quercetin. Providing a diverse mix of phenolics and flanonoids that work in synergy with one another, African black soap can help fight free radical damage that contribute to the physical signs of aging.
6. Evens Skin Tone
Hyperpigmentation – or the darkening of an area of the skin – can be caused by sun damage, acne, inflammation, and other skin injuries that increase the production of melanin. Tyrosinase is an enzyme that helps regulate melanin; if tyrosinase is not functioning properly in the body, it allows melanin to increase unchecked. This can result in dark circles under the eyes, liver spots, and other patches of discolored skin.
Studies have shown that cocoa pods can inhibit tyrosinase activity, resulting in lighter skin tones. It also has the ability to naturally absorb UV light, offering some added protection from sun damage that causes dark spots to form in the first place.
7. Treat Eczema
Marked by dry, red, sensitive, and itchy skin, eczema symptoms can be swiftly treated with African black soap. Free of artificial chemicals that can irritate sensitive skin, African black soap is enriched with plenty of things that can counter inflammation and add moisture to the epidermis. Coconut Oil, shea butter, and red palm oil, in particular, provide deep hydration while soothing the swelling and pain that often accompanies an eczema flare-up.
8. Minimize Scars & Blemishes
The unique combination of ingredients in African black soap also means it is excellent for reducing the appearance of acne scars, evidence of past skin wounds, and stretch marks. Shea butter is a well-regarded ointment for repairing skin tissue and boosting collagen production. Red palm oil is a good source of vitamin E, a crucial element for the maintenance of healthy skin. And lastly, the essential fatty acids in palm kernel oil, red palm oil, and coconut oil bolster the regeneration of skin cells to help scars fade away.
9. Naturally Anti-Fungal
Shown to be effective against several strains of fungus, you can use African black soap to treat athlete's foot, nail fungus, ringworm, and candida overgrowth. It can be used against household mold too.
I absolutely love Jennifer's products. They are so soothing and nurturing to my families skin. I use them not only for my skin but also when my child has a injury. The Shea Butter really helps the healing process. -Anna Ingles, Katy Texas
This facial is like the ones I received at home in Europe. The products are amazing and smell so good. It's the only facial I can actually see the difference in my skin after I am done and it lasts. -Karin Jonch-clausen, Madison WI
This cleanser is so smooth and silky. I've been using it for years and have all my friends hooked. If you love the smell of essential oils this cleanser is for you! I love the fact that I can clean my hands with natural soap and smell good at the same time. I've used many cleansers before, all which have caused my skin to get really irritated and dry. This cleanser is one of the few that does not cause my skin to break out. It's nice to be able to use a natural cleanser that leaves me clean and smelling good. The added bonus is the clear quartz that is infused in it. The scrubs are the perfect things for my skin in the winter and summer. In the winter I have naturally dry skin and these scrubs help exfoliate and create younger fresher looking skin. I don't know where I would be without the scrubs, they're a staple in this household. The masks have a natural smell and are very nice because unlike traditional masks they are much thinner application. I can wash away all of the mask at ease and it leaves my skin hydrated and clean. I love how soft my skin feels afterwards. I love the Lavender, Chamomile, and Rose added to the different clays. The toner smells like heaven and is so refreshing to spray and the amethyst is so beautiful and adds such a great energy to it. The serum is a nice touch to add for after washing your face. The essential oil smells delicious and gives me a glowing look. Its the only moisturizer that doesn't make my skin breakout. For someone working third shift the bags on my eyes can be massive. I've been using the shea butter eye cream religiously and can honestly say that even after working third shift I feel bright eyed and bushy tail once I put this on. It has a soothing effect and also hydrates my under my eyes for hours. -Aurora Porche, Milwaukee WI
"I've tried several natural skin care lines, but while they may work, they've all smelled terrible. The A'staisora skin care line keeps my skin clean and soft, is easy to use, and best of all it smells wonderful." -Laura Molbery, Madison WI
I started using Jennifer's skin care products when I opened a massage esthetics business! I have been an Esthetician for 6 years and used many a product! Some that were very expensive and actually started leaving weird spots on my face!
The best thing you can do for your skin is using the all natural hand made products that Jennifer makes! The products are absolutely fantastic and will have your skin hydrated and at its best!
And guess what you can be an affiliate!
Can't say enough good things about the crystal infused line!!! ❤️ -Cathy Davis, Katy Texas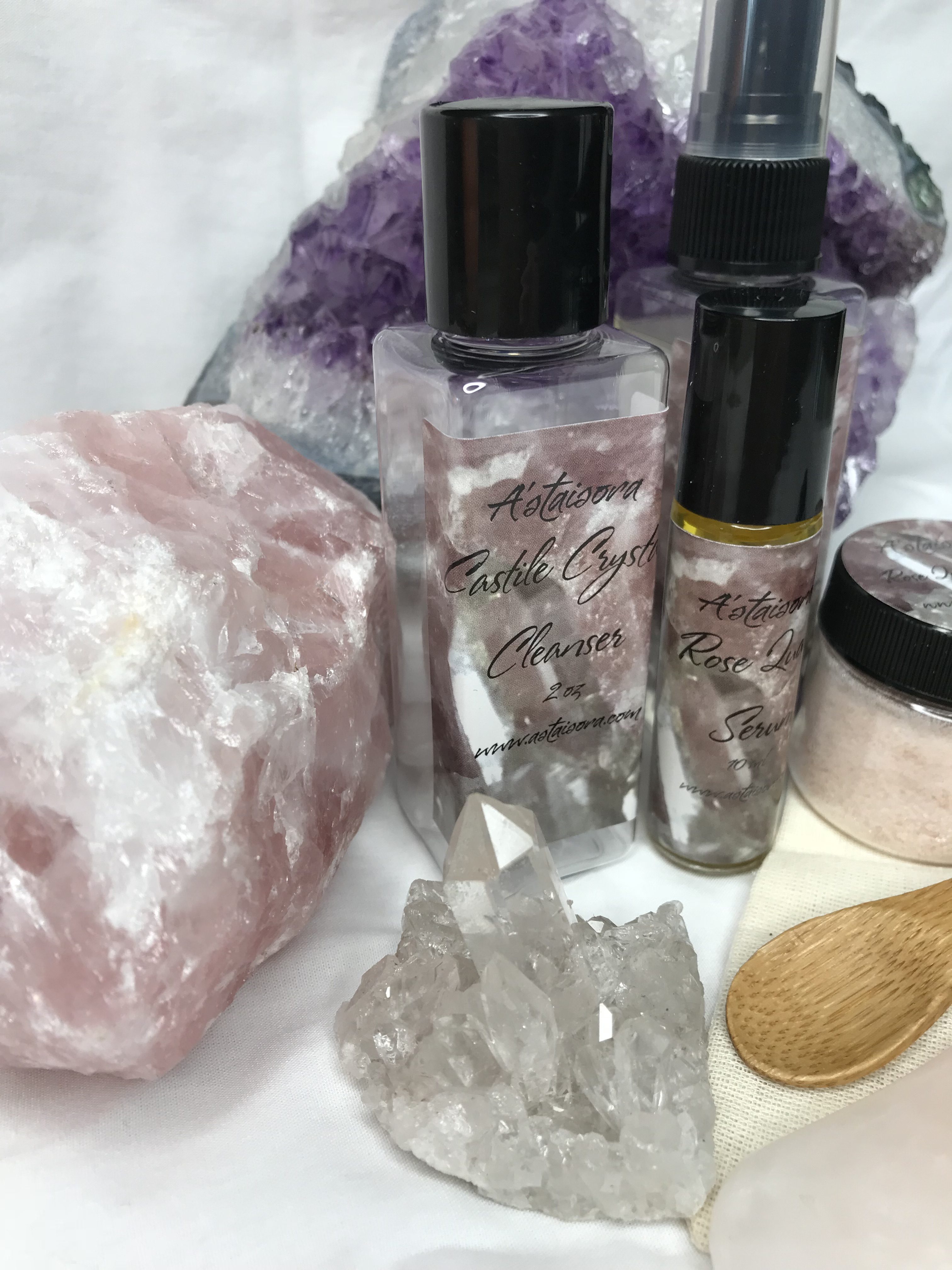 We sell our Facial Kit 3 ways. The first kit should always be the one that includes the Rose Quartz Facial Tool. Then you have your choice of a monthly subscription or quarterly. All kits come with the Clear Quartz Cleanser, Amethyst Infused Toner, Rose Quartz Serum Roller Ball, Eye Creme, Rose Quartz Scrub and Mask. Each item has a crystal inside that you can keep. The Serum has a unique Rose Quartz Roller Ball. Each product is made to the highest standards and with love. Crystals vibrate at a higher frequency and adding them to your skin care ritual helps promote more vibrant and healthy skin.